Magnolia Drainage Experts
We can Install your Drainage System
Area surface drains can usually remove standing water from low areas in your lawn. Magnolia Tx Drainage issues are generally located in the backyard or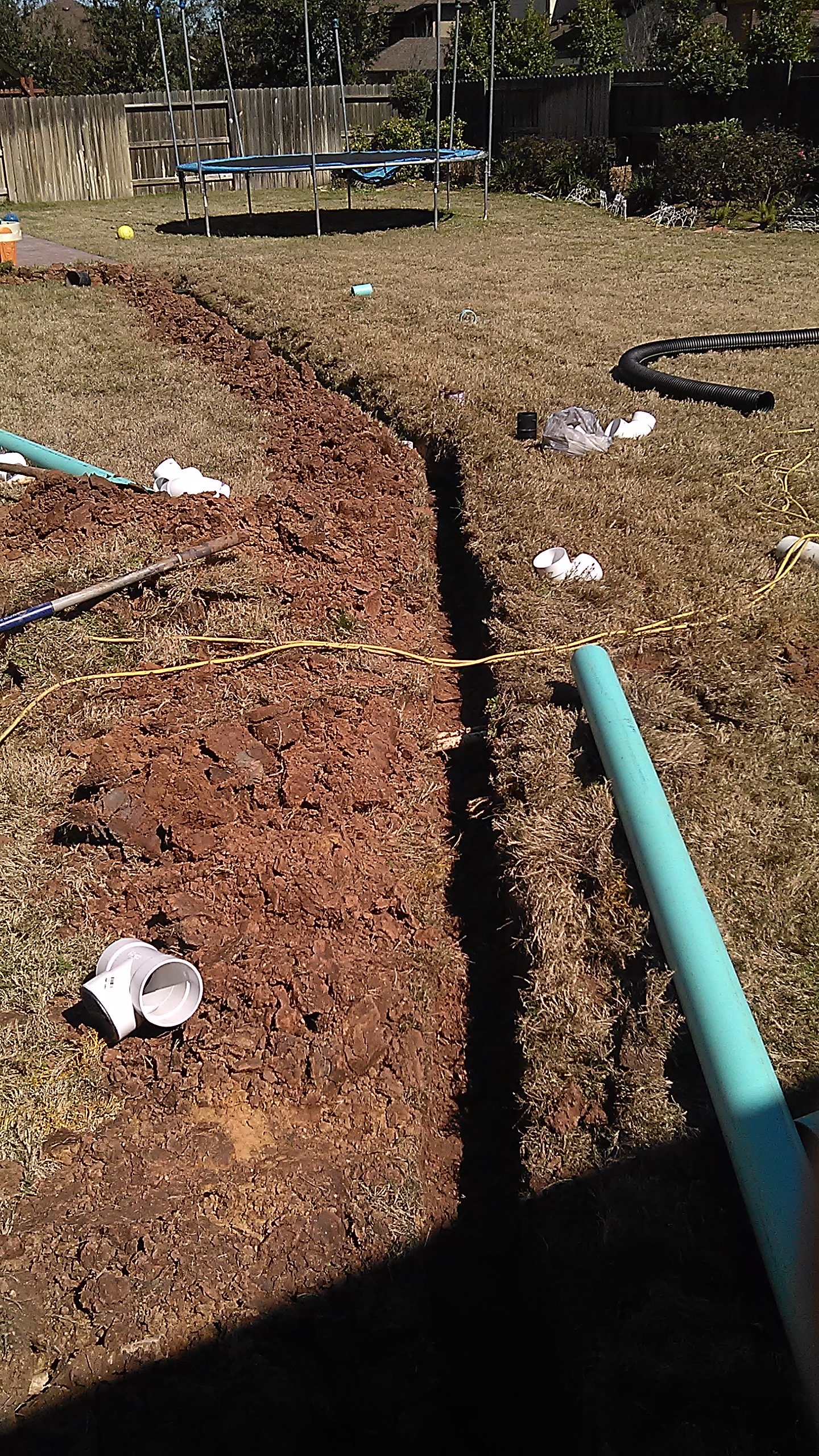 between two houses along property line. In the backyard is normally where most of the problems occur do to the flatness of the yard. If you have gutters we try to tie the downspouts into the drain. Magnolia Drainage takes the water off of the roof and put in in the street.
Magnolia Drainage specialize in:
We offer thorough evaluation of your property and expert recommendation of proper drainage solutions to meet your needs. With over 18 years of combined irrigation and drainage experience, we have the expertise to repair and update your existing drainage systems as well as install and maintain a new system. We at Magnolia Drainage focus on long-term solutions, not short-term fixes – which results in tremendous cost savings to our clients.
Magnolia subdivisions we service: Allenwood, Ascot Farms, Bridle Creek, Buck Hills, Cimarron Country, Clear Creek Forest, Clovercreek, Country Forest, Country Pines, Country Place Acres, Cripple Creek Farms, Cypress Wood Estates, Dawson Gamble, Decker Place, Decker Woods, Decker Woods Ranchettes, Dogwood Hills, Dogwood Patches, Durango Creek, El Lago Vista, Enchanted Forest, Estates Of Clear Creek, Falls Of Wildwood, Fawnwood, Forest Crossing, Glenmont Estates, Green Tree, Greenfield Forest Estates, Hazy Hollow East Estate, Hazy Hollow Estate, Heritage Farms, Hidden Lake Estate, High Meadow Estates, High Meadow Ranch, Highland Estates, Indian Woods, Indigo Lake Estates, Indigo Ranch, Kipling Oaks, Lake Windcrest, Lakes Of Magnolia, Lexington Estates, Magnolia East, Magnolia Pines, Magnolia Ranch Estates, Magnolia Ridge, Magnolia West, Mccall Sound, Mill Creek Landing, Millers Crossing, Mink Branch Valley, Montgomery Trace, Mostyn Manor, Mostyn Manor Estates, Northland Indian Hills, Oak Crest Estates, Oak Hollow, Oakwood Estate, Pine Ridge, Plantation Lakes, Ranch Crest, Ranches At Pinehurst, Ranches Of Pinehurst, Remington Forest, Ridgewood, River Park Country, River Park Ranch, Rolling Forest, Sawmill Estates, Sendera Lake Estate, Shady Brook Acres, Sonoma Ridge, Spring Creek Forest, Stagecoach Farms, Tall Pines, The Ranches Of Autumnwood, The Reserve At Autumnwood, The Village At High Meadow, The Woodlands Sterling Ridge, Thousand Oaks, Timberbrook Estates, Timberloch Estates, Tomball North, Turtle Creek, Villages At Heritage Point, Walnut Creek, Week End Retreats, Westlite, Westwood